Alpha Hearing Update
As the cold of winter settles in, Alpha Hearing continues to heat up through its continued work for the local community.
In April, our audiologist Eugene Chang presented to Monash Men's Shed (MMS). The aim of MMS is to improve the physical and mental health and wellbeing of members. The organisation does this by engaging in physical activity, conversation, health programs and helping others in the community. To learn more about MMS, visit the City of Monash website or call 9561 8557.
During the talk, in addition to promoting the benefits of proactively managing hearing loss, Eugene discussed the role of hearing protection in places like Men's Shed. Eugene pointed out that not using hearing protection with noisy machinery is the equivalent of not using eye protection with welding equipment.
Different types of ear plugs provide different levels of protection.  Furthermore, for the cheaper foam plugs, how you insert them can make a difference to the level of protection you receive from them.
To ensure the members of MMS protect their hearing, both now and in the future, Alpha Hearing donated 10 pairs of industrial level ear muffs to the club. With this small contribution, we know the men at MMS will be protecting their hearing every time they use their noisy power tools.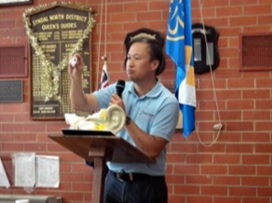 ---
Attitudes to Hearing Protection
On the topic of hearing protection, a recent survey conducted on 1043 people in the US, showed that sight and hearing are the two most important senses people value. Ironically, for these same participants when asked if they were doing a large DIY project at home, would they use hearing protection? Only a third of the respondents said they would. Yet over 70% of the same respondents said they would wear eye protectors!!
Is comfort an explanation for this? Maybe, maybe not. We would suggest that wearing a face mask or respirator would be more annoying, yet a higher proportion of people use these items compared to hearing protection.
Not surprisingly, only a third of the same participants said they would wear ear plugs when going to a loud outdoor concert. In contrast, 85% said they would wear sunglasses and 75% would wear sunscreen.
Given how much we value our hearing and how important hearing is to the quality of our lives, let's be proactive and adopt a positive attitude to hearing protection. Don't just think about hearing protection, use hearing protectors.
---
Audiology Australia National Conference
Audiology Australia's 21st National Conference was held in Melbourne on 22-25th May. Over four days, some of the brightest minds in Audiology presented their latest research into hearing aid technology, diagnostic innovations, cochlear implant research, assistive listening devices and auditory processing disorder, to name a few.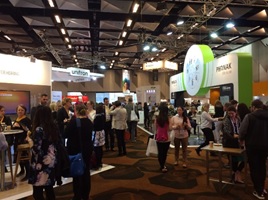 Over the coming months, we will be offering special trials of hearing aid devices that offer the latest technology in the current market. We learnt a great deal about these devices and technologies during the conference. You will also notice us adopting some innovative strategies to demonstrate these devices in our clinics.
As an example, learning from the Signia display, we have invested in an amazing simulation that allows users to appreciate how a hearing aid can reduce background noise and be programmed to "focus" on one sound source over another. If you want to hear the difference these hearing aids can make, give us a ring and make an appointment. Call 9807 3007.
---
New Signia Primax Hearing Aids
Signia (formerly Siemens) released their latest hearing aid technology during the National Conference.
To learn more about the primax hearing aids, visit Signia's website. In brief, the features that distinguishes the primax hearing aids from its predecessors are:
SpeechMaster – Signia's new sound processor.
HD Music – music program to enhance the experience of listening to music.
EchoShield – latest feature to alleviate difficulties that arises when we converse in a reverberant room.
TouchControl – a free smartphone app that allow you to directly control your hearing aids.
---
If you enjoyed reading this, click here to subscribe to our quarterly newsletter.