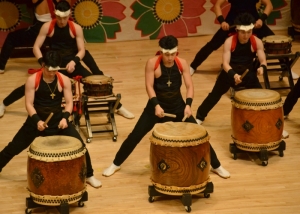 Alpha Hearing was recently invited to the Australia Miyake Kai Taiko drumming club to meet with members and to present a talk to the group about noise induced hearing loss.
Before this presentation, we had no experience of Taiko drumming. We arrived with sound level meters and were very surprised to measure the sound pressure level of the beat of just one drum at 103dB. During the training session, as many as eight drums were being played at any one time and this level of loudness and noise exposure will lead to hearing loss in a matter of minutes.
We know that exposure to noise at 85dB is safe for 8 hours. As the loudness of the noise increases by 3dB, the safe exposure time halves, which means that exposure to 103dB of noise is only safe for about 15minutes before the small cells inside your inner ear (called hair cells) can start to be damaged.
The hair cells in our inner ear are so delicate that once they are damaged, they do not regenerate. This means that hearing
loss due to excessive noise exposure is permanent hearing loss.
This message must have been received "loud-and-clear" because most of the club members went on to order custom-made hearing
protection to use during their training sessions and events. Posted on their facebook page are some fantastic pictures of members
having their ear moulds made.
Customised musicians ear plugs are used to reduce excessive noise to safer levels. This enables the wearer to be exposed to the
noise for longer periods before they risk damage to their hearing. These special ear plugs are the best way to prevent permanent
hearing loss due to loud noise.